Boardwalk Empire, Hell on Wheels, and Copper are three great excursions into times we never knew and sometimes think we might prefer. I watch them all. But for the real thing, I read old National Geographics. These writers weren't looking for period authenticity. They lived them.
For instance, if you went looking for the Rainbow Bridge National Monument 100 years ago, there were two routes you could consider:
I. Gallup, New Mexico, on the Santa Fe line, may be made the starting point, whence one must go by stage 35 miles to Fort Defiance, Arizona, and from there by wagon or pack outfit 155 miles in a northerly direction to Oljato, Utah, where guide and outfit for the final portion of the trip may be secured.
II. Or the traveler may leave a branch of the Denver and Rio Grande Railroad at Delores, Colorado, stage 81 miles to Bluff, Utah, and there secure horses for the remaining 60 miles to Oljato. The bridge is distant from Oljato only 36 miles as the crow flies, but the trail passes over twice this distance, and three days will be required for this last and most difficult part of the trip.

The trip is an extremely arduous and toilsome one, and would be fraught with danger to an inexperienced traveler, but under competent guidance may be accomplished with no special hazard, though hardships and inconveniences, and many of them, must be expected.
Those suggestions were given on page 1056 of the November, 1911 issue of The National Geographic Magazine.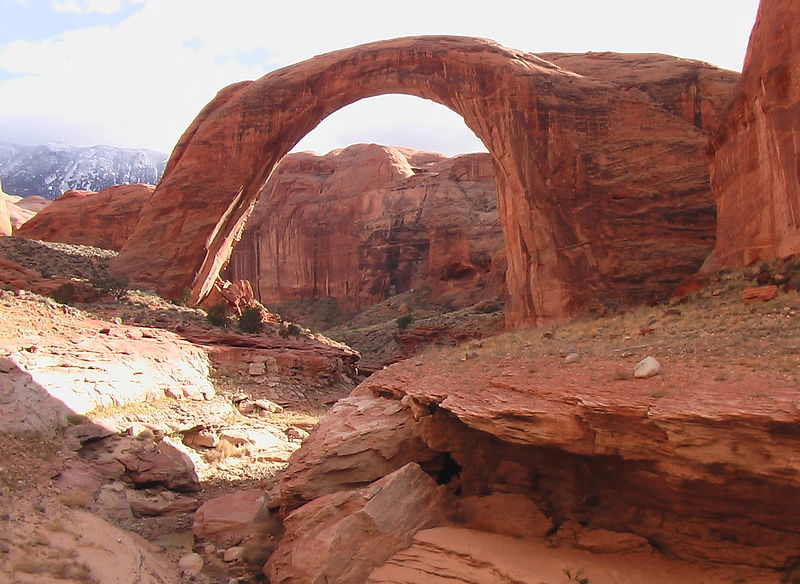 In 2012, however, this website claims that
Rainbow Bridge is one of the most accessible of the large arches of the world, as it can be reached by a two-hour boat ride on Lake Powell from either of two marinas near Page, Arizona, followed by a short mile-long walk from the National Park wharf in Bridge Canyon or by hiking several hours overland from a trailhead on the south side of Lake Powell (obtain a permit from the ://en.wikipedia.org/wiki/Navajo_Nation">Navajo Nation in Window Rock, Arizona).
Do I wish I could go the old fashioned way? Sure. Would I actually do so? Probably not.