200 years old today! How's it feel? Is there an afterlife? Did you catch any of the movies? Masterpiece Theatre? Who is your favorite Scrooge? Doncha just love Gillian Anderson? and ! I wonder if she has found her ouvre.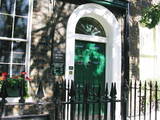 I visited your house in Bloomsbury when I was in London a few years ago. Marvelous collection of originals, very telling wine cellar, interesting laundry room. Don't suppose you were in there much. Loved the statue of The Little Midshipman, even though I've haven't yet read .
I've seen the downs above Dover where Aunt Trott held sway in (if Gillian is doing Miss Haversham, can Aunt Trott be far behind?)
I followed a sign from the A259 purporting to lead to Romney Marsh, looking for the shades of Magwich and Pip, but had to make do with green fields and an ancient church. There's been no stopping progress, I'm afraid.
So Happy 200th Birthday, Charlie. Forgive my familiar impertinence. I am a Yank, after all. I wonder what you would think of our world today. One thing, though, is certain. It wouldn't be the same without you.